Greetings Everyone!

Thank you for stopping in to visit us online. Below, you will find links to all of our Social Media. There we post moment by moment happenings at The Z. Next you will find events we host on a regular basis, and then further down below, are upcoming events happening over the next several weeks. Please check them out. At The Z, we make every attempt to keep all members of every age active and engaged, but most importantly, our goal is to present ourselves in a realistic and transparent manner, we aim to remain relevant with our methods of spreading and sharing the Gospel in today's culture, and we seek to reach as many souls as we can telling them of the Goodness of God in hopes of adding more willing servants to His Kingdom.

God Bless You! ... and please come back to visit us.

We are very active on all of our Social Media platforms. We constantly and consistently post and interact with our audiences. To get the most up to date information on the activities going on at Zion; follow us, like, share, and subscribe; and just to ensure you are one of the first to know, go ahead and authorize notifications.
What is ZionEatZ? We're glad you asked? ZionEatZ is concept developed and implemented by our Creative Team. It is a 3-fold initiative that will bring awareness to Zion Christian Ministries and allow us to share a bit of our culture all while supporting local businesses. Zion Christian Ministries loves God, we love each other, and we love our community. We view ourselves as a light in our grand city of Murfreesboro, Tennessee, and our desire is to share the light and love within us with those around us. You are welcome to join us every 4th Sunday. To see photos of previous ZionEatZ restaurant outings and fun, check out www.thisiszion.org/zioneatz, and stay tuned to www.thisiszion.org/happenings for the next restaurant location announcement. Keep in mind, everyone is individually responsible for purchasing their own food, drinks, and such.
Join us for Sunday morning in person Worship! We would love to see you. If you can't make it to The Sanctuary at The Z or don't feel comfortable coming out and sitting amongst the crowd, catch us online via
Youtube
or
Facebook Live
.
*See Safety Precautions Below.
Bible Study at The Z is every Wednesday at 6:30 p.m.;
EXCEPT the 4th Wednesday.
The 4th Wednesday of each month is
Wildcard Wednesday
where we usually do something uniquely different
from our typical Bible Study.
SCHOOL SUPPLIES NEEDED FOR OUR CHILDREN!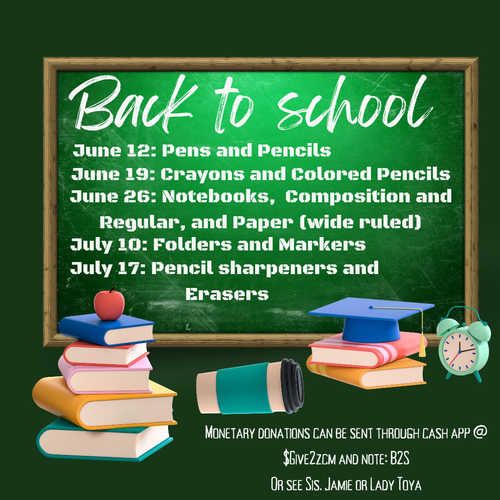 Back to School Give-A-Way
We are asking for donations to help supply the kids with the necessary tools which will enable them to have a wonderful and successful school year. Notice the dates in the graphic above and the supplies requested on each date.
You are not limited to just one date or one item! Should you feel moved to bring multiple items on multiple days, your generosity will very much be appreciated.
Donation Drop-Off Location
Please bring your donations to the 401K Building on each Sunday before 10:00 a.m. or after The Experience, or on Wednesdays at Bible Study.
Monetary Donations Accepted
If you would like to donate monetarily, please see Sis. Jamie Ewing or Lady Toya Johnson. You may also utilize Cash App to make your donation to cashtag $Give2zcm and notate "B2S" on the memo line.
Thank you for helping our children!
The Greatness Coach LLC Presents
a Man Maker Movement Event
for Married, Engaged, and Single Women
Every wife or engaged woman should have expectations for their husband or fiancé. The question is, "Are those expectations realistic?" Ladies, I'd like to introduce you to a brand new concept that was inspired by my Man Maker book series. I wanted you to understand HIS CAPACITY*. Your husband's capacity has nothing to do with ability but all to do with his fragility. Let me share some thoughts about how his fragility impairs his ability to be the man, husband, and father you expect him to be. Your expectations may exceed his capacity! ~ Christopher A. Johnson, Sr., The Greatness Coach
Session #2
Thursday, July 14th, 2022
6:30 PM – 7:45 PM
401K Building, 4750 John Bragg Hwy, Murfreesboro, TN 37127
His Capacity is a "must register" event.To register, click here.
A ZION LEADERSHIP & TEAM MEMBER EVENT
THE Z RETREAT REFRESHER ORIGINALLY SCHEDULED FOR SATURDAY JUNE 25TH IS NOW POSTPONED UNTIL AUG WITH THE EXCACT DATE TBD.. YOU MUST REGISTER FOR THE SESSION! TEAM MEMBERS, GO TO THE CHURCH CENTER APP TO DO SO. THE LINKS ARE THERE.
LET'S GO ... TEAM ZION!!!
#WEREPCHRIST #WESERVE #ZIONCULTURE #THEZEXPERIENCE #THEZ #TEAMWORKMAKESTHEVISIONWORK
GIVE AND IT WILL BE GIVEN BACK TO YOU!
We will be celebrating our 15th year Anniversary on August 14th. We are asking each member to sow a seed of $100, but also encourage our friends to do the same. If Bishop J or Lady T have said or done something in any way, shape, or form to bless you recently or in the past, consider sowing into Zion's Anniversary Fund. This fund helps us to present our beloved Bishop and Leading Lady with wonderful treats and gifts on this special day. You can sow the full amount all at once or you can contribute smaller amounts over time. If you are unable to swing the full amount, don't let that stop you from contributing, just sow what you can. Your seed conveniently can be sown through any one of our channels of giving, just please be sure to notate what it is for. If
giving online
or through the app, select "Anniversary" from the Fund drop-down button. If donating via Cash App, just put "Anniversary" on the For line. We would like to have all contributions in no later than July 31st.
We're so excited, and we look forward to you celebrating with us!
ONLINE ONLY WORSHIP EXPERIENCE!
No In-Person Worship...We will be ONLINE ONLY! Worship with us LIVE!*Make note of another Virtual Sunday coming up July 31st.

Kultured Media & 401K Youth Presents
SUMMER SPLASH
AT NASHVILLE SHORES!
KULTURED MEDIA & 401K YOUTH MINISTRY...
are combining for the summer outing to Nashville Shores
on Saturday, July 23rd!

TICKETS ARE $25 PER PERSON.

First 15 to register are eligible to ride on the church van.

PLEASE NOTE:
Children 12 and under require a parent/guardian to attend.
Everyone, outside of the first 15 registrants eligible to ride the church van, is responsible for their own transportation.
Food, drinks, and parking are not included in the ticket price.


REGISTER AND PAY HERE BY CLICKING
THE MAP IMAGE BELOW:
REGISTRATION CUTOFF DATE:
Friday, July 1, 2022
QUESTIONS?
Email
zcmyouth@gmail.com
or see Sis. Jamie Ewing, Bro. Jeremiah Roper, or Lady Toya Johnson.

COVENANT KEEPERS JULY OUTING!
Couples, the Summer Splash at Nashville Shores collabo outing planned by Kultured Media and 401K Youth is going to be so much fun! This will be the outing of all outings, and we couples will share in this fun with the media team and the youth for our July outing. See Ticket and Deadline Information in the above Ad!
SEE YOU AT THE SHORES SATURDAY JULY 23RD!
VBS is Wednesday, July 27th - Friday, July 29th!
We will have classes for ages 3 to Adult. Classes are 6:30-8:00 p.m. We will feed children and youth ages 18 and under from 6:00-6:30 p.m. each night before classes begin.
VBS Field Day/Celebration will be on Saturday,
July 30th from 12-2:30 p.m.


To register click here: God's Wonder Lab
by July 16, 2022!


Registration will close on Saturday, July 16th for staffing, supply, and food purposes. If you have any questions or concerns, please see Minister Elect Shawn Thompson, Sis. Jamie Ewing, or Lady Toya Johnson.
Teachers, Administrators, and Parents!
LET'S BUILD THE 3-FOLD CONNECTION FOR STUDENT SUCCESS
Presented by The Greatness Coach

"I'm deeply concerned about our students, their educational success, behavior, and ultimately the kind of people they will become. I think it is important to have some level of consistency between parents at home and teachers at school with agreeable enforcements carrying over from the dining room and continuing into the classroom." ~ The Greatness Coach Christopher A. Johnson


Dining Room to the Classroom, brainchild of Bishop Christopher A. Johnson, can serve some needs of both parents and teachers when it comes to shaping the future for students. It is designed to help parents and teachers to understand each other at a deeper level and to join forces to ensure the success of students. There is a three-fold connection between parent, student, and teacher that must be established in order to reach the outcome of success, and Dining Room to the Classroom is going to show you how you can start to build that connection.


Dining Room to the Classroom
Saturday July 30th 9:00 a.m.

REGISTER HERE TODAY!!
15TH ANNIVERSARY CELEBRATION
Join us as we celebrate Bishop Christopher Johnson, Lady Toya Johnson, and Zion Christian Ministries! Praise and gratitude, first and foremost, goes to God for our reaching this milestone of 15 years in ministry. Each and every member of Zion, including all clergy, leaders, teams, and those who attend every Wednesday and Sunday, has played a significant role in us getting to year fifteen. Everyone is invited for this special occasion on August 14th where our guest speaker will be Pastor Mark T. Jackson of The Light Church of Youngstown, Ohio. This celebration is going to be amazing and what a glorious time we will have!
YOUNG GIRLS, LET'S DO THE WORK SO YOU CAN...
TRADE IN YOUR PRINCESS TIARA FOR YOUR QUEEN CROWN!
The Greatness Coach Presents
GROWING YOUNG BOYS INTO YOUNG MEN!!
We, at Zion Christian Ministries, are taking necessary precautions trying to be as safe as possible for everyone. Please wear a mask when attending The Z Experience, Bible Study, and all other Zion events in-person and plan to keep your mask on at all times while on campus. Also, we are checking temperatures at the door. If you are elderly, sick, or considered high-risk, as much as we would love to see you, please watch us and participate in our Online Worship Experience and Mid-Week Bible Study.
If you feel a tug on the strings of your heart to contribute to the ministerial efforts of Zion Christian Ministries, click the Give Now button. Any contribution, is greatly appreciated and will assist us as we continue to do good works.
Thank you, for being a blessing!

"Give, and it will be given to you. A good measure,
pressed down, shaken together and running over,
will be poured into your lap. For with the measure
you use, it will be measured to you."
~ Luke 6:38 NIV ~
Follow us on all Social Media platforms!
Subscribe to Happenings At The Z!
Happenings At The Z , nicknamed HATZ, is Zion Christian Ministries' twice-weekly distributed email newsletter. If you would like to subscribe to HATZ, please complete the form and submit. Just keep in mind, it can take 2-3 weeks for you to begin getting the newsletter.